During my time as a radio technician for the US Army I was introduced to what then was a new tool to me.  The guys where I worked called it a solder sucker and it used a vacuum to draw the hot solder off to make it easier to remove components and replace them.  Up to that time I had always used solder wick and even after that I still prefer solder wick.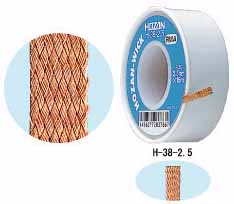 Solder wick is flatten copper braid, like the braid on a coax cable, which is covered with flux.  It works by, as the name implies, wicking up the solder like a candle wick or oil lantern wick draws fuel up to the flame.  It will dry off the liquid solder like a dish towel dries water off a dish.
There is a technique to using solder wick but it is not hard.  Place the wick between the clean solder iron and the solder to be removed.  When the solder is fully liquid move the iron up the wick and the solder will follow the iron up.
Good quality wick is extremely important.  I have used some wicks that will not draw solder.  Using them was like trying to use an oil soaked rag to soak up water.  They may have been old and the braid had oxidized which is something the flux should prevent.  My favorite is Chem-Wik.  I have never had problems with Chem-Wik even after I have had it in the shack for several years.
Suction type of solder removal tools will work well but they cause oxidation which means the solder point should be thoroughly cleaned before soldering the new component in place.  These devices can also be a pain to keep the tips clean so they will not become blocked.  The type of suction device which requires heating the joint then removing the iron and quickly applying the suction tip requires the connection point to be heated high enough so solder will remain liquid until it can be removed; this can cause damage to other components which are not being removed.  There is also the danger when working on a printed circuit (PC) board that the excess heat will cause the trace to lift off the board.
Solder wick does have the disadvantage of not being reusable.  Once it is used it is clipped off the spool for disposal.  I have used some of these normally discarded pieces to repair PC traces or to run a ground lead from a PC board to chassis.  They can also be wrapped around fish line and used like shot weight for trout fishing.
<